I'm gonna start this post with my big face again.
[this post is gonna be filled with my face]
MEOW. Lol, I hate cats. (No, Hello Kitty is not a cat, its a lifestyle.)
I'm like, into the Asian fashion recently. Ulzzang style to be exact.
What is ulzzang?
So, as an Asian, I must support Asian fashion right? But since I am korea-crazy now, my fashion style is no doubt the korean fashion instead of japanese fashion (which is more exaggerating for me)
How to be an ulzzang? You ask.
First, you must look asian. Have flawless skin, pale, big eyes & small, round face because koreans love these kind of face.
Next, it's just gonna be make up & photoshop (but I never do that cause idk how)
How to do that?
1. Wear circled contact lens / enlarged contact lens.
2. FACE - Apply foundation to achieve the pale look, you can also apply a small amount of pink blusher on your cheeks.
3. NOSE - Contour your nose because most ulzzangs have a small, sharp & pointed nose (but I also never do this cause I suck in contouring)
5. FASHION - nothing much, just wear cute asian clothes & not too sexy ones. Cute accessories are important also, like hipster glasses, sunglasses, cute hairband or hair clips.
Lastly, THE HAIR. Nothing much also, just make sure it is neat & tidy. But bangs are rather popular for ulzzangs cause it looks cute. Of course, no bangs also can. Later I show you all real ulzzangs with bangs de hair style cause I dont have bangs anymore.
#1 curly w/o bangs
You can clip up your bangs with a cute hair clip. I used a bow tie (:
#2 two low, loose pony tails
#3 loose braids, one or two also can. Just loose.
#4 full up pony tail
#5 messy bun (so you dont look like ballerina)
Ok, now here are the real ulzzangs. Real models. Not like me, cheat one, just copy cat only hahahahaa
[photos taken from google]
- Song Ah Ri -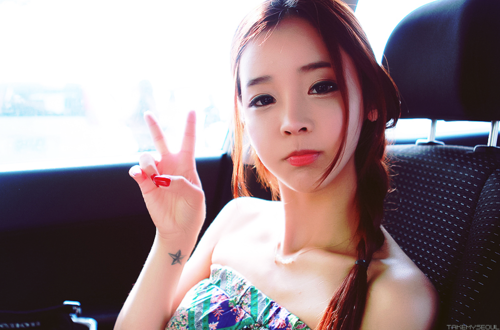 - Park Sora -
- other ulzzangs that I don't know their names -
***
After that, take lots of cute selcas & you can add some effects. These are the apps I used (iPhone) :
(cute graphics)
- Cymera
- LINE Camera
- Mustache Mania
- PhotoWonder
(chio effects & filters)
- Pixlrmatic
- PuddingCam
- Space Effect Free
(Colleges)
- Body Symbol Free
- HeartBooth (they dont only have hearts)
- Multilens
FAVORITE OF ALL : FotoRus
- can photoshop
- make gifs
- colleges (up to 5 photos)
- picture in picture (this one dont really like cause no mirror image -.-)
OKAY, that's all. TATA!!!
XOXO
UPDATE!!!
Forgot to say I don't really use my iPhone camera. I use camera360. Favourite camera app!