So my first post on
Ulzzang Style
was apparently super popular on my blog. By far the most read post since it was posted. It was more than 5000 views and most searches were about it too so. But since it has been more than a year, I thought of doing another post on it.
What is Ulzzang?
Ulzzang, also spelt as eoljjang or uljjang is a popular South Korean term literally meaning "best face" or "good-looking". Originally used as a slang term, this word in the English lexicon has evolved into describing a person that follows specific style of fashion. A person desiring eoljjang status would gain popularity on the internet through entering contests where their photos are judged and chosen by voters, though many became well-known eoljjangs from having popular Cyworld accounts or have gained popularity in school for being attractive.
Many eoljjangs model for popular Korean fashion websites, and some have entered the Korean entertainment business and have since risen to stardom.
Although the word originated in South Korea, followers of such trends could be seen in China and Japan, but can also be found in Taiwan, the United States, Canada, Indonesia, Europe, and Malaysia.
[copied from my previous post]
So, if you're still not sure what is an ulzzang, I'm sure most of you knew/heard about Stylenanda and 3CE (3 Concept Eyes) righttt? Those models you saw for this company, those are ulzzangs! (I will include the names if I know it)
Park Sora ↓↓↓
No idea who is she, probably Minhee or someone else I'm not sure ↓↓↓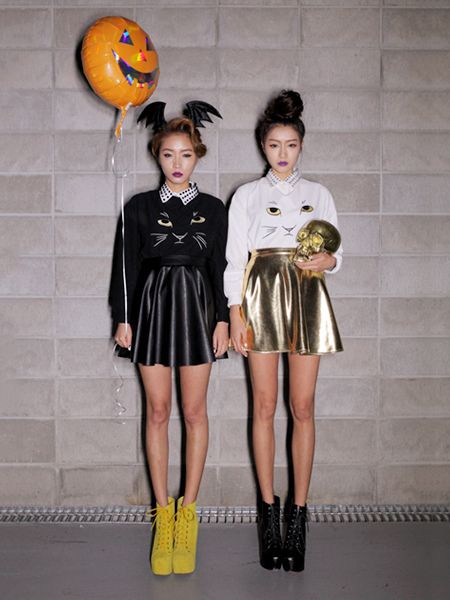 Kang Jiwon ↓↓↓
Jung Minhee ↓↓↓
There are also some other famous ulzzangs from the show ulzzang shidae which is about online famous ulzzang girls and guys (yes, guys) where they compete each other to see who was has the prettiest natural face (because most of them use make up and lens and photoshop, not to forget plastic surgery). I never watched it before though...
Anyway, I'm not sure which of them were on the show but here are some examples of an ulzzang.
Hong Young Gi ↓↓↓
Song Ahri ↓↓↓
Do Hwe Ji ↓↓↓
Park Jae Hyun ↓↓↓
Kim Si Young ↓↓↓
Other than the models and internet famous people, there also also Korean Idols/Actor/Actresses that are/were ulzzangs! Just to name a few familiar ones,
2NE1 - Park Bom ↓↓↓
SNSD - Yoona ↓↓↓
F(X) - Krystal ↓↓↓
Ku Hye Sun ↓↓↓
Miss A - Suzy ↓↓↓
IU ↓↓↓
FT Island - Choi Jong Hun ↓↓↓
U Kiss - Kiseop ↓↓↓
So after seeing so many pretty faces (even the guys are prettier, i know right!?), the real question comes, how look be like them? Some people may say we, non-koreans, will never be ulzzangs cause only koreans can be ulzzang, which is total bullshit cause I seen many Chinese/Taiwanese, Japan and even European (mostly mix) ulzzangs!!! So anyway, they say we cannot be ulzzang, but they never say we cannot try to 'walk their style' right? HAHAHA BURN ok I'm a bit crazy now.
From all the photos I have shown, you can conclude that they all look 98% the same. Big eyes, small baby face, straight nose, aegyo sal (the 'eyebags'), thick and straight eyebrows. Yeap, this is the typical look for ulzzangs. So if you don't have them, you can forget it.
HAHAHA KIDDING.
You still have make up and contact lens and photoshop to save you if you die die also wanna be an ulzzang. Hashtag ulzzang wannabe.
SOOOOOOO
You all must be thinking I'm super long winded, why so long still haven't tell me how to be an ulzzang!!! I want to be one, NOW! I WANT TO BE PRETTY I WANT TO BE FAMOUS!!! STFU WITH THE INTRODUCTION CRAP AND TELL ME WHAT TO DO!!!
Yeah, yeah I heard you. That's why I'm gonna start now.
*** Disclaimer:
I am NOT an expert or make up tutorial guru, nor am I an ulzzang and neither do I claim that I am (in fact, I have actually changed my style recently, no more cutesy shit for me, I'm 19 now ok, not 17 anymore hahahaha wtf ) so I am merely sharing how I did to 'ulzzang-fy' myself. So don't accuse me of trying too hard to be an ulzzang WHEN I AM NOT and ask me to go back to middle school wtf.
STEP 1:
Get circled lens. Believe me, getting enlargement lenses are seriously the key point to this look. You need big eyes, huge puppy pitiful eyes where people just wanna hug you and cuddle you and go 'oh let me love you' when you look at them. I'm using
BIONICS colour TOUCH - Brown Secret
. I bought it from my optical shop at Plaza Pelangi The Eye Shop at Level 2 opposite Mixit.
STEP 2:
The foundation. Apply concealer on where you need to conceal, like your under eye, side of your nose, side of your lips and maybe some zits. Then, I usually mix BB+CC cream then apply all over my face. That is my foundation. I don't use any loose powder but feel free to use whatever stuff you usually use. At this point of time, I like to apply lip balm to moist my lips for later when I apply my lipstick.
I'm using -
Maybelline Clear Smooth BB Cream
&
Etude House Silky CC Cream.
For lipbalm I'm using
Burt Bees Tinted Lip Balm (Pink Blossom)
STEP 3:
Eyebrows. This is also another key point. You need straight and thick eyebrows. If needed, please trim your eyebrows or get someone to do it for you if you don't dare to do it yourself. Go to a shop or something. Getting your eyebrows right will get you +20% to complete. I have no idea how to do a tutorial on this cause it's really hard to focus with my iphone 4s camera so here is a picture I got from google, hope it helps you. Oh, right! I think they sell those eyebrow templates in Sasa/Watson/department store that helps you to draw your eyebrows more accurately. I'm not sure if they have korean eyebrows template though, but I think should have lah, seeing that Korean make up is so viral now.
My current favourite:
Cyber Colors 24 hours Eyebrow Pen (Dark Brown)
STEP 4:
Ok, so I don't use eye shadow. If you want eye shadow, uhm, you have to make do with the tutorial photo.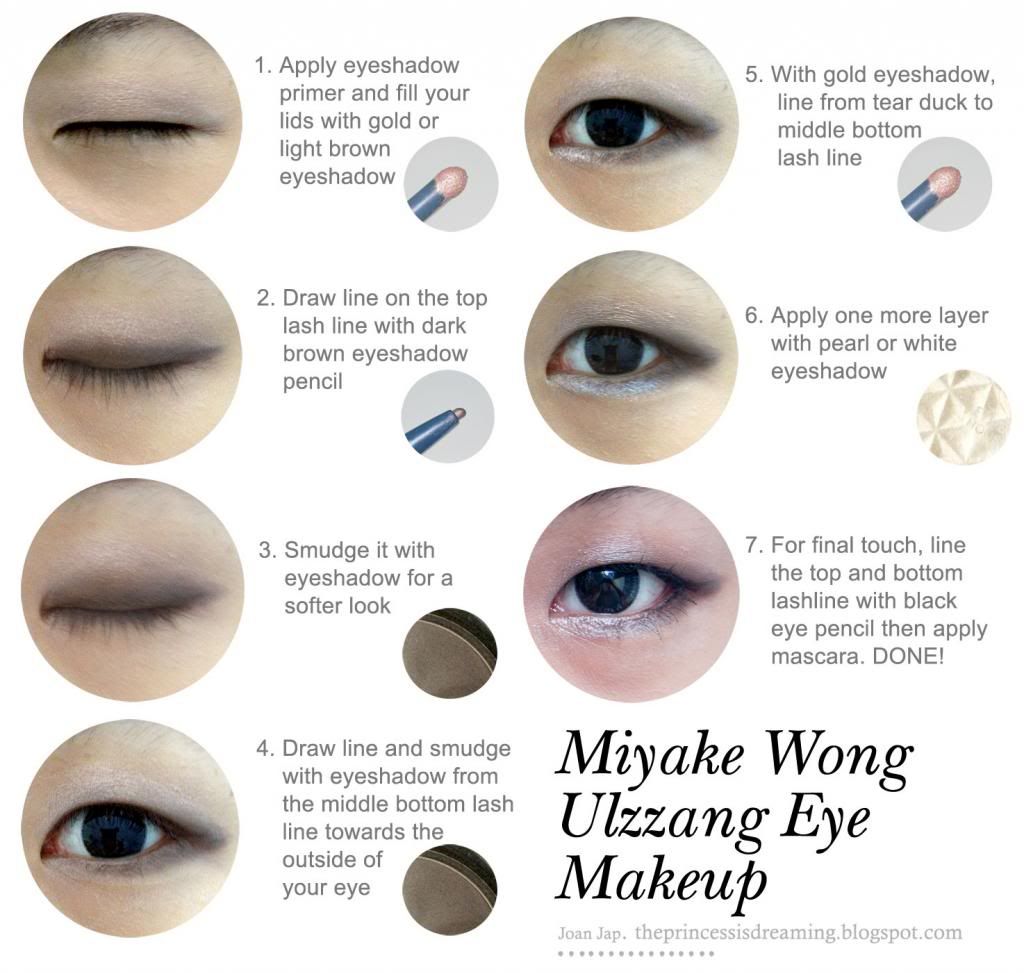 [
www.theprincessisdreaming.blogspot.com
]
I think it's best to use nude and brownish colour for ulzzang look cause you really want to look natural.
STEP 5:
Eyelinerrrrrrrr. Most important point!!! The eyeliner defines you, makes you an ulzzang or not is this step cause if you're doing a cat eyeliner then uhh, you're far from being ulzzang dy. At least that's what I think. Anyway, this one I also cannot do tutorial cause of low photo resolution ): *screams: I need a real camera!!!!!!* I'll try to explain the drawing with my own words cause I cannot understand korean words.
1. Wear your contact lens!
2. Draw a black line as show in picture, it's basically just outlining your lids. Apply it super near to your top eyelash line, please be careful not to poke your own eyes. Extend a bit of the line.
3. Highlight the places in dotted green lines with a white eyeliner of eye shadow.
4. Using brown eyeliner, draw a triangle as shown at that part (yellow) of your eye.
5. You will see that your double eyelids will be shorter than your eyeliner so draw a thin brown line until it's about the same length as your eyeliner. This gives the impression of a longer, bigger eye.
6. Apply mascara.
7. You're done!!!
After the eyeliner/eye shadow work, you're like 70% done.
My favourite:
Clio Waterproof Pen Liner (Kill Black)
STEP 6:
Eyelash work. This one really is depend on your preference. If you like fake lashes, this step can be skipped because we want the natural look, as if we do not want to look too dramatic. But if you insist, please do wear those that aren't too thick. I never used fake lashes before but I seen them in shops, I think those that are longer at the ends are more suitable to get to droopy sad feeling. Mascara would be enough, really. I usually don't apply mascara from the bottom of my lashes. Only at the ends and all of my bottom lashes so I look err, dolly? HAHAHA. Remember, when you curl your lashes, you don't want it to be too stuck up like a spider's legs. Natural is good, sometimes I don't even curl my lashes...
STEP 7:
The bite-lip (gradient lips) make. It's very very simple. First, you conceal your lips with either a concealer or nude shade lipstick, then at the center part of your lips, apply a dark/bright red lipstick or lip tint. Then blend it and you're done with the make up! (;
[
www.sparkleapple.blogspot.com
]
After the make up, you have to get the look right by wearing the right clothes. As korean style is super duper in the range now, it's no problem to get korean clothes easily.
- Pair cute pullovers with skinny jeans/leggings.
- Vintage printed t-shirts.
- Shirts with cute wordings.
- Floral theme clothings.
- Cute accessories.
Also, style your hair cutely.
- Arrange your bangs.
- Tie up your bangs.
- Braid your hair.
- Pony tail.
- Pigtails.
- Messy buns.
- Curl the ends of your hair (or not) if you like straight hair.
- Loose curls - definitely fits korean beauty standards.
Ulzzangs normally have dark hair? Cause believe it or not, dark colour actually makes someone look younger. But I think light colour works too.
After getting the look right, it's time for selfiessssss!!! Then go online and post them selfies, join contests on social medias, instagram your photos and hashtag #ulzzang #ulzzangwannabe and all other crap you can think of. But first, let me take a selfie......
LOLOL. Hope you liked this updated version of how to be an ulzzang wannabe.
EXTRA
Favourite Korean Fashion Instagram Accounts:
@kfashion_potd
@likestyle
@kfashioninfinity
Now go be beautiful (in Korean standards)! Bye!
xoxo